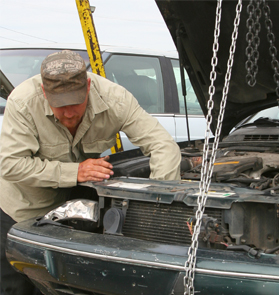 A Simple Concept
Parts Galore is Detroit's original and largest self-service auto parts company. We opened our yard 11360 E 8 Mile road in 2005. Our concept is very simple, we acquire a large variety of vehicles, put them on stands, you remove the needed parts, and you save big bucks. Whether you're looking Ford, Chrysler, GM, Chevrolet, Buick, Cadillac, Dodge, Jeep, Mercury, Oldsmobile, Pontiac, Plymouth, Lincoln and Saturn or Honda, Volvo, BMW, Toyota, KIA, Hyundai, Fiat, Lexus, Mitsubishi, Nissan, Toyota, Mercedes, VW, and Subaru you are sure to find them in our yard. The yard is organized by manufacturer or type and we have signs along the way marking specific sections as well as marked row numbers to assist you in locating the vehicle. Our pricing structure is a flat rate. An alternator from a '97 Lincoln Town Car is the same as that of a '02 Jaguar XJ6. Our facilities are 100% self-service, customers remove parts on their own. By doing so, you can purchase the desired part at a significant savings. We do provide engine hoists and wheelbarrows at no charge. We also offer a small variety of tool sets that can be purchased if you don't have or forgot the tools you need. Jacks and torches are strictly prohibited. Parts can be safely cut off, if necessary, utilizing battery powered tools and sawzalls. Similarly, only authorized power tools are allowed in the yard. In addition, we provide parts interchange or a cross reference for the year, make, and model of the vehicle that you own. Our entire inventory is placed on stands with marked row numbers for the convenience of our customer, so all you have to do is bring your own tools and pull the parts you need. In short, you'll find our customer- friendly environment to be a big part of the overall Parts Galore experience.
Environmentally Conscious
We are committed to protecting our environment. In accordance with EPA Regulations, all fluids and batteries are properly removed from all vehicles and recycled. Once a vehicle has been stripped of all useful parts, we send our cars to our scrap yard to be shredded and recycled. See Also: Guarantees, Return Policy
Why Choose Us
Using quality recycled parts saves money, energy, resources and landfill space.
Quality parts at unbelievably low prices saving you up to 75% off retail pricing from traditional part sources.
Our huge inventory includes lots of hard-to-find parts.
Our facilities are clean and state of the art and our excellent customer service can't beat. You'll find comfort stations throughout our facility equipped with porta-potties, soda machines and picnic tables for your convenience. Additionally, our facility are handicapped accessible.
New vehicles are placed in the store daily to ensure a fresh, wide selection of parts.
Our easy to use website lets you check our available vehicle inventory and get a quote for selling us your car.
Our computerized Parts Interchange Cross Reference System identifies all vehicles containing the part you need and the vehicles location in the yard.
Worry-free purchasing thanks to our 45 day parts return If a part breaks or doesn't fit in your vehicle, you can pull another similar part or receive a store credit. See specific parts exclusions.
We accept cash, Visa, Mastercard, Discover, Apple Pay, and American Express. (Sorry, no checks.)
Open 7 days a week and most holidays for your purchasing convenience.