[ultimate_heading main_heading="Parts" heading_tag="h1″ alignment="left" spacer="no_spacer" spacer_position="top" spacer_img_width="48″ line_style="solid" line_height="1″ line_color="#333333″ icon_type="selector" icon_size="32″ icon_style="none" icon_color_border="#333333″ icon_border_size="1″ icon_border_radius="500″ icon_border_spacing="50″ img_width="48″ line_icon_fixer="10″ main_heading_color="#820815″][/ultimate_heading]
Parts Galore offers all makes and models, from passenger cars to pickups, 4 x 4's to vans and SUV's. Our Flat Rock location has a one of a kind "Big Truck" section featuring trucks from 1 ton to semi trucks, box trucks, heavy equipment and even farm tractors.
At Parts Galore you can find almost any kind of vehicle to suit your needs. Domestic brands include Ford, Chrysler, GM, Chevrolet, Buick, Cadillac, Dodge, Corvette, Hummer, Jeep, Mercury, Oldsmobile, American Motors, Plymouth, Lincoln and Saturn. Foreign makes include Honda, Volvo, BMW, Toyota, KIA, Hyundai, Fiat, Lexus, Mitsubishi, Nissan and Subaru can be found anywhere at our three Southeast Michigan locations.
In addition, each of our yards feature an "Old Stuff" section that is comprised of vehicles older than 25 years. This is a popular section for those who are restoring classic vehicles and are looking for that special part to complete their restoration. If you need parts for a 1969 Camaro, 1980 Firebird, 1957 Chevy, 1940 Plymouth, 1954 Chrysler, 1972 VW Beetle or 1967 Chevy Pickup Truck we just might have them.
Our yards are organized by manufacturer or type and we have signs along the way marking specific sections as well as location maps throughout the site to assist you.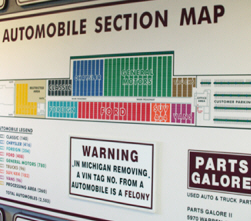 To help you move parts from the yard to the check out area, we provide sturdy wheelbarrows at the entrance that you can use free of charge. We even provide engine hoists at no charge. Add these tools to your own elbow grease and you'll able to get the parts you need with no trouble at all.
We also have a special Bargain Wagon where you can find all kinds of great stuff on sale.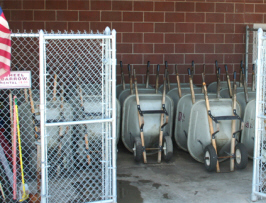 At Parts Galore, we like to keep things simple. Checking out is no exception. Like any other quality retail store, you simply bring your parts to the counter at the customer exit where one of our helpful employees uses a state of the art touch screen system to quickly and efficiently ring up your sale.
To keep things simple, all prices are firm and not subject to negotiation. You can even purchase a 30-day, 90-day or Lifetime Guarantee on most parts. All of which is a guarantee for a great shopping experience.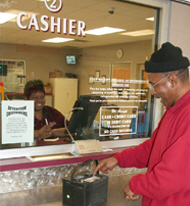 Lifetime Guarantee, 90 Day or 30 Day Guarantee
It's just one of the many ways we stand by what we sell and always treat our customers with the utmost fairness.
If you buy our Lifetime, 30-Day or 90-Day Guarantee, available for most parts at the time of your parts purchase, you can return the part and pull another one to take its place. There will be no additional charge provided the part you are exchanging is the same type of part you are pulling from the yard.
All parts sold "as is" unless a guarantee is purchased. Return of any guaranteed part will result in either exchange of the part purchased (subject to availability) or the issuance of a store credit for the original purchase price and the cost of the guarantee. NO CASH REFUNDS!
All guarantees are valid until a store credit is issued when used to exchange the same type of part. the original transaction. The credit may by applied to the purchase of any part.
No Lifetime Guarantee may be purchased or shall apply to motors, batteries, transmissions or parts covered under a 30 day guarantee. Store credits are not redeemable for cash and have no cash value. Guarantees and store credit may be used at any of our 3 locations.